Prince, rated
#3
3 in the Rolling Stone Hot 100, was a guitar hero to Eric Clapton, rated
#2,
behind Hendrix. Indeed, Mr Slowhand chose Purple Rain as his Castaway's Favourite on Desert Island Discs.
Apocryphally, if not really asked about how it felt to be the world's greatest living guitar star,
the man known
to 1970s rockers
as, 'God,' replied: "I don't know. Ask Prince". Which is
odd,
because the flip side to the Purple Rain single is entitled, God!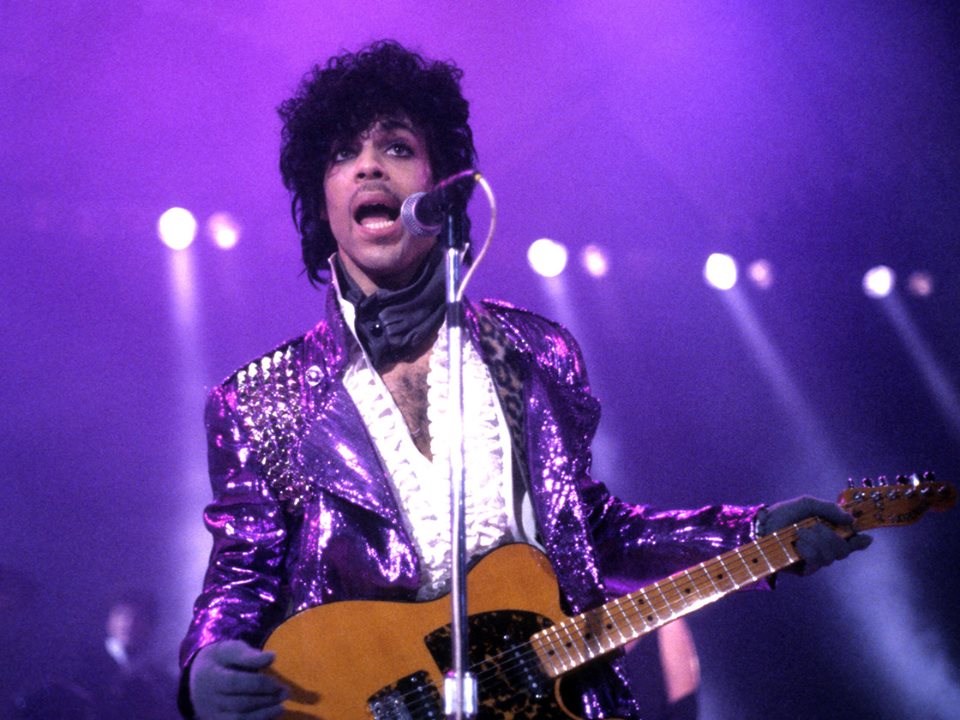 "I love you, baby, but not like I love this particular guitar!"
Tom Morello, in Rolling Stone, says, "When he plays the Purple Rain solo, it's life-changing. Put that on right now and try not to cry. And at the end of the movie, he conjures this genre–destroying guitar storm – and does it in high heels on top of a piano while his guitar is squirting." If you don't have a 12″ vinyl copy  to hand, perhaps you need to reassess your priorities. Still, you may revisit the first ever live performance and recording of Purple Rain on YouTube from the legendary benefit concert held for the local Dance Theatre at First Avenue in Minneapolis on August 3, 1983. I emphasise, 'may,' because it comes and goes, so any link I give you today may die tomorrow. 'C'est la vie,' as Prince may have quipped before he abruptly expired.
Consider the climactic, elongated, near 20 minute version of Purple Rain from The Revolution's performance at Syracuse, NY, on March 30, 1985. This important video document regularly gets taken down by the Paisley Police, who patrol YouTube on behalf of NPG Music. Since Prince passed, however, it can more easily be found using the additional search terms, 'extra longue' and 'insane guitar solo'. The image quality may be poor, but turn it up!
Using ears rather than eyes to assess his performance protects one from being prejudiced by Prince's attire, as the dude is sporting what I can only describe as  a sparkly snood (its hood tended to slip over Prince's eyes, somewhat comically, if you check a video collection of his funniest moments.) Prince once asked his road manager, Alan Leeds, why he was under-appreciated as a guitarist: 'I foolishly suggested that he should consider a brief tour of elite concert venues concentrating solely on his musicianship, performing without his usual bells and whistles,' Leeds recalled, "even to the point of dressing down, perhaps in blue jeans and a turtleneck. Dripping with sarcasm, his deeply patronizing response was, "What? And look like you?"
Prince conceived Purple Rain as the ultimate rock ballad, along the lines of Faithfully, by Journey. There's nary a smidgen of funk amid its bombast ("Country & Western as Hell," according to Dr. Funkenstein, "but you don't relate it to that because he put that nice, pretty Jimi Hendrix tone over it, which is really slick!") It starts quietly with Wendy playing solo, Prince not joining her until some four minutes in, playing jazzy licks on what all true fans will immediately recognise as the ole' MadCat: a Telecaster copy that was Prince's favourite guitar and the one he probably wrote this song on. After a minute, he pauses and retreats into the dry ice for a mo.
Gee, baby, that's a curvaceous model!
When Prince's guitar speaks next, half a minute later, it is in the more strident tones of his White Cloud, with its peculiar curlicue, as  seen in the movie, after Apollonia presents it to The Kid (right). Prince commissioned Dave Rusan at
Knut Koupee music store in Minneapolis, to make it for him in 1983. It's modelled upon the lascivious lines of a bass
guitar used for Why You Wanna Treat Me So Bad, but with an extra horny design flourish to make it more Princely.
Armed with the White Cloud, Prince then proceeds –  from about halfway through the song, some ten minutes in – to execute what Rolling Stone concedes is 'arguably the greatest power-ballad guitar solo in history,' but which many of his most devoted friends and ardent admirers (Prince disdained the term, 'fan' because it's an abbreviation of 'fanatic' and that cannot be healthy) are convinced is the Greatest Guitar Solo Of All Time, Ever. Not being over-endowed with false modesty, I doubt Prince would agree. 1985 was a mighty long time before he finally popped his pick and his playing only improved with incessant practice.
According to Morello, Prince was underrated, 'because his phenomenal guitar-playing was just one arrow in a quiver full of remarkable talents.' If Prince's awesomeness on the guitar was not always apparent, it's because he was often busy doing everything else, onstage & in the studio: singing & dancing; playing every other instrument & banging every drum; writing & arranging & producing & generally running things. Plus, he said 'No' to Activision! Prince may not register on peoples' radar as a guitar hero, or a super hero, but he had absorbed all the lessons that Carlos Santana, in particular, had to teach; knew every trick that Hendrix and Clapton and Beck and Page had pulled throughout their pioneering careers. He could reproduce any of their licks, sequenced into his own flow, while keeping it on the one.
As a promiscuously endowed multi-instrumentalist, Prince could run through a whole concert without picking up his axe, but when he did strap on one of his statement guitars – the Cloud, or latterly, one of his truly unique Love Symbol guitars, then He, Him, His Bad Self, was unlikely to put it down before he has destroyed every thing and anyone within ear shot. Then, he developed a penchant for tossing away the spent guitar, not like a workman laying down his tool but more like a painter throwing down his brush upon the completion of a master piece.
Only four Cloud guitars were originally patented – known as 'North, South, East & West' – all of which have been resprayed over the years. They are made all of maple using Gibson's 24.75" scale length and have 22 medium/jumbo frets with a 12" radius on the fretboard, equipped with EMG active pick-ups and Schaller hardware. There's one volume control, one tone control and a 3-way switch. The whole guitar is finished in two-pack paint (including the fretboard) and is equipped with Jim Dunlop strap locks and a brass nut & truss rod cover. All hardware is gold plated. Or so it says here. And here.
Naturally, a subculture has grown around Cloud Guitars, which only nerds need dive into, but here's some fun factoids:
Legend has it that the original White Cloud, featuring 'spade' symbol fret markers, was destroyed. Wendy has said that Prince 'broke all his guitar strings during Purple Rain and walked off' at the climax of the last Revolution show at the Yokohama Stadium in Japan, but he probably didn't smash it up. That was not his style.
On 09/26/09, james reported: 'Bizarre thing happened last night. I was in Jazz After Dark (well known hang out of Amy Winehouse, etc) and there was a charity auction going on. The first item was Prince's White Cloud guitar, like the one in Purple Rain! Only it had gold knobs and gold symbols on the frets. The story was that Prince gave it, at some point, to the bar owner. There were only about 30 people in the tiny back room, only 2 people bidding, and it sold for £3000! It was most probably a replica, like the Knut Koupee copies that sold for about $5000 in the early 1990s, or the cheaper copies by Schecter, mass-produced in an edition of 310 to celebrate 3121 in 2006, which were sold via NPG Music Club for $1000-$1500.
Prince's 'Yellow Cloud' electric guitar up for auction!  Born 1989 & well used in the Diamond and Pearls era until its neck broke on a French TV show in 1994, the repaired Yellow Cloud will be sold by Heritage Auctions in Beverly Hills on June 24-25 along with other rarities that include a 1970s demo tape
with track listing written in Prince's own hand! The opening bid is
$30,000, which seems paltry, but the sky is surely the limit for real authentic, played-by-Prince Clouds, n'est ce pas? (PS: it eventually fetched $137,500!)
There's a rival Yellow Cloud in The Smithisonian! Several Yellow Clouds were
made to be sold at the Minneapolis & London NPG shops in the early 1990s; each was numbered and sold with a Certificate of Authenticity. The one in the
collection of the National Museum of American History – acquired for an 1993 exhibition about the invention of the electric guitar – is the real deal, obviously. The museum's records list David Rusan as the builder in 1989, along with Barry Haugen of Knut-Koupée Enterprises in Minneapolis. It's on display until Septemer 5, 2016, at the Behring Center so visitors can see for themselves if it really looks like its been played by Prince!
Other noted Cloud Guitars include the Peach model from Sign O' The Times, which was given away as a prize and has not seen since. Black Cloud #1 from Parade was the only one with an unpainted fretboard, but a natural maple finish that was later customised with bat symbol fret markers during the Batman era to become Black Cloud #2.
The Lovesexy era Blue Cloud (left) is often called The Blue Angel (hear it sing here!) and should not be confused with Blue Cloud #2, as seen in the Rave Unto The Year 2000 video, which has gold plated knobs rather than the black plastic 'mini JB' knobs found on earlier guitars and a more rounded profile to the body.
Laughing in the purple rain.
The later Clouds were made by Andy Beech, who is now known, at least by Rolling Stone as The Luthier Who Made Prince's One-of-a-Kind Guitars
having built some 31 of them over the years. "I feel unbelievably
privileged," Beech said. "When  I started doing this, many years ago,
Prince only took somebody's word that I was capable of doing it." Beech
is best known for his Love Symbol guitars, which have been spotted  by members of prince.org in
half a dozen different colours. Despite its peculiar structure, the
Symbol guitar is as much a tools as a show piece. Prince most famously
utilized its shape at his legendary Super Bowl half time show in 2007 (right), which left Andy Beech "breathless" and "screaming at the TV." (Maybe he missed what Prince did with it on TV a decade earlier!)
Although Prince was somewhat involved with the process of crafting his guitars, albeit remotely, Andy Beech never actually met his client in person and he passed up the chance several times. "That opportunity, sadly, will never be available to me again," he commented, rather fatuously.  Nor shall Simon Farmer, AKA Gus of Gus Guitars,  who made Prince's last guitar get to meet the man he made it for. Gus hand-made the custom Purple Special  on spec. nine years ago, but only got it to Prince a few weeks before He died and, in a photo taken only days before his death, Prince is showing Gus's guitar off to a select audience at Paisley Park.
Prince was never loyal to any one luthier, but promiscuous in his love of guitars right to the end, with 3rdEyeGirl, when he insisted that Donna & Ida as well as his bad self all play VOX 77's through Mesa Boogie amps. Prince had a black one – as used at The Billboard Awards in 2013 –  and another with a custom paint job (above) to co-ordinate with one of his unique outfits (not worn here)!
In 2010, Prince commissioned a unique gilded Stratocaster from his good friends at Fender, which he played on his Welcome To America tour before it was sold for $100,000 in a charity auction to Lewis Hamilton, the F1 champ. Prince told George Lopez that it was going to be hard to part with his gold guitar , but he had only played it on tour for five months, so it wasn't THAT special. Not like his beloved MadCat Guitar!
Lopez asks if he still has his first guitar and Prince says, with a rueful pout, "a lot of my stuff gets stolen." Of course, despite his self-mythologising and playful denials, Prince could not tell a lie. Giving up his gold guitar would've been a wrench, even though it was always his intention, and the MadCat telecaster copy with which Prince destroyed 2011's Rock and Roll Hall of Fame ceremony was almost definitely not the  one he wrote Purple Rain on. But the MadCat (top pic.) was Prince's first, last and all-time favourite guitar, of that there is no question.
Who knows what drew Prince to this cheaper Japanese Telecaster knock off? Although its headstock was clearly copied from Fender, the MadCat, designed in 1973 by Hidesato Shiino (the H.S. in, 'H.S. Anderson' –  aka, the 'Japanese Leo Fender') was unusual in terms of its construction – based around a walnut centre strip, with sen (a cheaper, Japanese ash) sides and tiger maple top and bottom – and equipped with unusual hardware that evidently suited Prince's sound. Not to mention the distinctive leopard-style pick guard which may, after all, be what caught the teenage wannabe's fancy, as suggested by Prince's Most Notorious Musical Instruments.
Certainly, the MadCat looked classier than its price tag might
suggest and Prince acquired two of the 500 odd MadCats that were made
during the '70s – including a small batch made for Hohner
USA, the German harmonica maker's venture into electric guitars – 
before production ceased in the mid 80s. Subsequently, Prince tasked
other luthiers to make copies, but in 2012 the original MadCat was revived and re-released.
Deep down, beneath his periodic bouts of uncertainty, Prince always knew he had it in him to be the most lethal guitarist. He made sure of it by playing every day and most of the night. Really, Prince was probably unparalleled as a rhythm guitarist, but he could could peel off jaw-dropping solos at the drop of a hat. Likesay, upon occasion, Prince – whose musical genius gave him a form of synæsthesia in which he saw sound as colour – would signal the conclusion of his musical statement by tossing away his guitar, as a great painter who has just executed a masterpiece may throw down his brush.
See this lovely old guitar? Now, watch…


He did such a thing on TV, 01.03.13, on the Jimmy Fallon Show, as a preview to his Live Out Loud tour with 3rd Eye Girl. Unfortunately – possibly because Fallon has switched channels – the footage cannot be found online, but they played a couple songs. Screwdriver was the single and the new girl on guitar, Donna Grantis, from Toronto, got on it about two minutes in, with a blazing solo. But, as Spin magazine reported, 'no one can touch Prince when he rekindles a classic track'. And Bambi, a prototypical Prince guitar squealer from his second, self-titled album in 1979 (revived in 1995 on the obscure live-in-the-studio set, The Undertaker) , was one of the most lethal weapons in the diminutive demon's sonic arsenal. So, he stepped forward sporting a mildly controversial afro hairdo and wielding an unfamiliar white guitar. Which he then proceeded to shred. Job done, Prince tossed the used guitar away and exited stage left as if to escape the host, Fallon, who was moving in from the right with his hand outstretched…
Bravo, Prince! As Black Thought, MC of house band, The Roots, commented via Twitter, '#RockGodStatus'! However, his band mate in The Roots, Kirk Douglas, was less than amused, seeing as the guitar in question was a beautiful 1961 Epiphone Crestwood Custom with mini humbuckers that belonged to him! Prince had apparently seen it at rehearsal and asked to borrow it for the show. And then he went and smashed it! 'Captain' Kirk tweeted a photo of its splintered neck with the caption, '#purplepain'. Later, Prince publicly denied it had happened, but privately he apologised and made it right and Kirk forgave him because he knows the P when he sees it.
The Rock 'n' Roll Hall of Fame Inductions in 2004 gave Prince a chance to prove himself the King by making his Guitar Weep Last, Longest & Loudest.
The video was well loved with nigh on 20 million views on YouTube before his demise, but upon news that sweet Prince was dead and with other clips in short supply, its score swiftly rose past 28 million. A supergroup featuring fellow Travellin' Willburys, Tom Petty & Jeff Lynne, plus lil' Stevie Winwood, gathered to perform a polite tribute to their recently-deceased colleague and old friend, George Harrison, by playing his classic song, While My Guitar Gently Weeps. As the song gets going, one notices a fellow lurking stage right, wearing a crimson shirt under a dark suit and matching Fedora: gangster glam. He is clutching a guitar that seasoned Prince observers will immediately recognise as the afore-mentioned MadCat.
For the first three minutes or so, Prince takes a back seat and strums along while the former Wilburys harmonise on the choruses, but then, at 3:27, he steps forward to take his solo. And he does not stop. Prince just keeps on soloing – making his favourite guitar not only weep but squeal and sob non too gently – for the next three minutes, full on until the end of the song. As Tom Petty said, Recalling Prince's Hall of Fame Guitar Solo: "You Could Feel the Electricity."  At 4:45, to the evident delight of an incredulous Dhanni Harrison, Prince turns to face the ensemble musicians and, still soloing, falls backwards off the stage!
Only, he does not fall because Prince employs a burly body guard to catch his regal self. After he has owned that stage and made his unequivocal statement about whose guitar is most likely to make you weep, Prince finally unstraps the MadCat and throws it straight up, where it disappears. It does not land with a sickening crash, because Prince employs someone – presumably lurking on the lighting gantry – to catch his goddam guitars. Especially the MadCat! We might assume that it was more than Prince's guitar tech's job was worth NOT to catch the precious MadCat. But, in the moment, Prince affected to care less about the instrument he has just used to stake his claim as Top Gun as he strutted off stage, not pausing for applause.